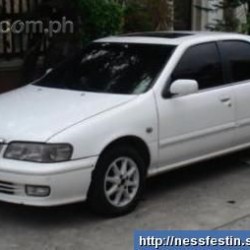 FOR SALE NISSAN EXALTA STA 2001 MODEL 235K NEG. PLEASE TEXT TO 0949-1263829 SPECS: Sun Roof All Power SMOOTH SHIFTING AUTOMATIC TRANSMISSION WOOD PANEL SRS […]
131 total views, 1 today
Welcome to our Philippines Used Cars Web site!
List Your FREE! Philippines Used Car Classified Ads
We are your #1 Used Car Classifieds classified ad listing site in the Philippines. Become a free member and start listing your used car classified ads within minutes. Manage all used cars ads from your personalized dashboard.
Buy the best quality Philippines used cars for sale online!
Buy a used car on-line in the Philippines today! Buy or Sell Philippines used cars.
We have a large selection of quality second hand used cars available at SUPER LOW prices!
Here at Philippinesusedcars.com you can buy and sell cars for FREE In Philippines.
Anyone can post a FREE car ad or browse Philippines Used Cars Listing for their new or used cars
and can contact the seller and purchase their next car directly from the owner and save money.
Check Out Our Used Car Buying Blog!
Everything you need to know about buying a used car!
Questions to ask, things to check along with a comprehensive Used car buying guide
to help you find the perfect used car for you and your family.
Buying a Used Car can be frustrating, incredibly if you're not familiar with cars.
USED CAR FACT!
Used Car statistics say that Toyota is the #1 best seller in Used Cars.
Toyota has an untarnished reputation for the Corolla.
As we have all seen Toyota Corollas all over the Philippines used as Taxis.
There is a reason for this! Used Toyota Cars have the lowest amount
of (TSB) Technical Service Bullitions available
in the New Used Car market today. What does this mean for the consumer?
Fewer headaches down the road for repairs and maintenance
which means saving money on that newly purchased Used Car.
Login with Facebook
Join Now!